Children's Billingual Books Only for 100 Yen at Daiso Japan

01/16/2023

It is a great idea to read books to your child to improve his or her language. However, children's books are usually expensive, and you may need many books, not just one. You can never have enough books.
There are children's books at Daiso in Japan, and of course, they are only 100 yen!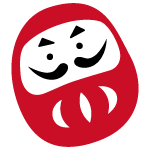 Don't worry if you don't speak Japanese, they are also written in English.
Children's Photobooks
Board book
Suitable for ages 1 and up
Size: 5,5 in x 5.5 in (14cm x 14cm)
10 pages
Price: 100 yen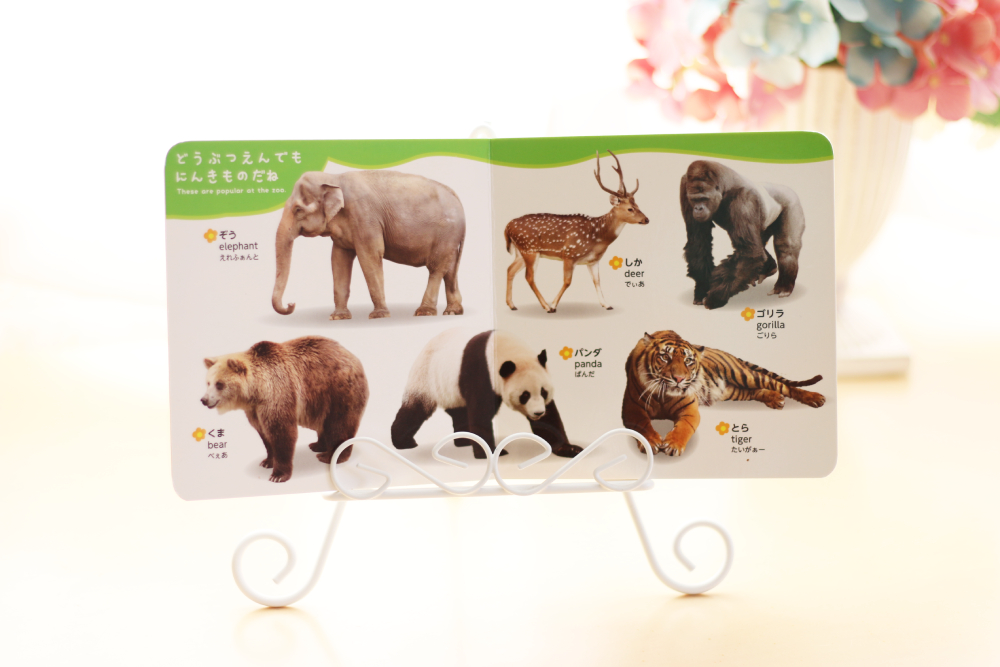 Discover your child's vocabulary by pointing to the photos. You can also ask questions regarding the photos.
It has its' name next to the photos. The top one is Japanese, the center is English, and the bottom one is the pronunciation of English written in Hiragana. Just ignore the bottom one because the pronunciation is sometimes weird.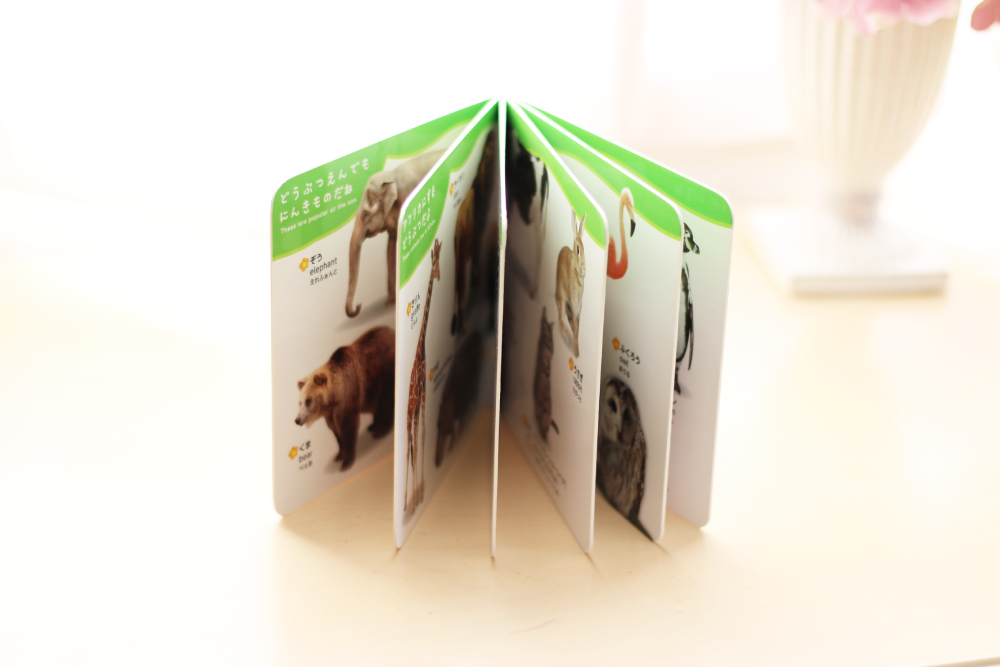 The book is made of solid cardboard,  so it won't be crumpled even if your baby punches it or steps on it.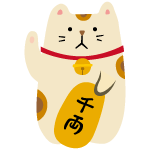 There are 5 different series. Let me introduce them.
どうぶつ (Animals)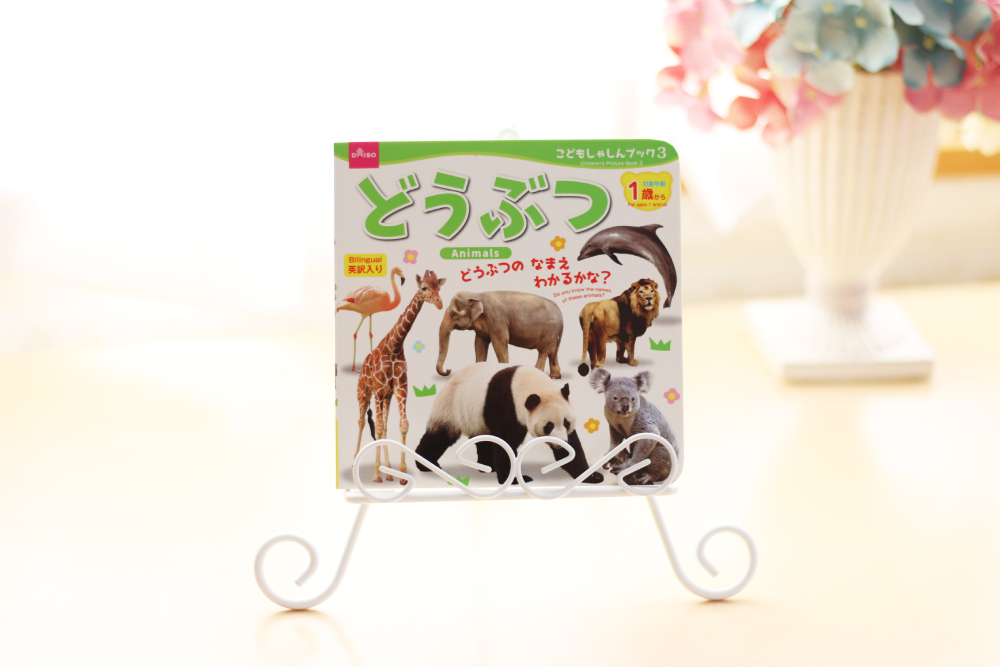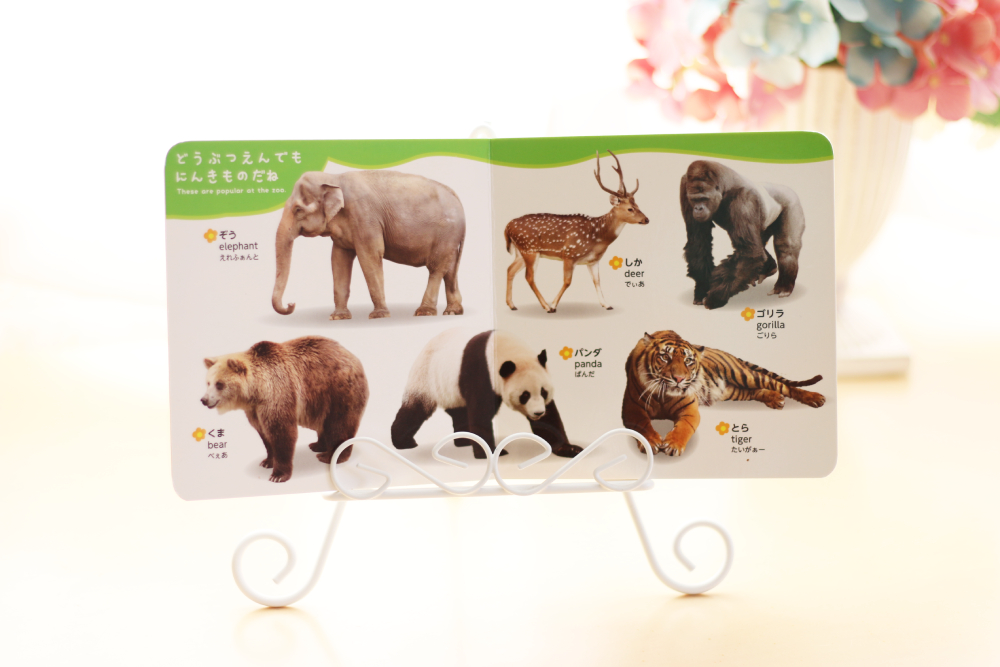 This book is a great book to learn about animals' names. There are a dog, a cat, a cow, a rabbit, a duck, a peacock, a koala, a lion, a giraffe, a panda, an elephant, etc.
うみのいきもの (Sea Creatures)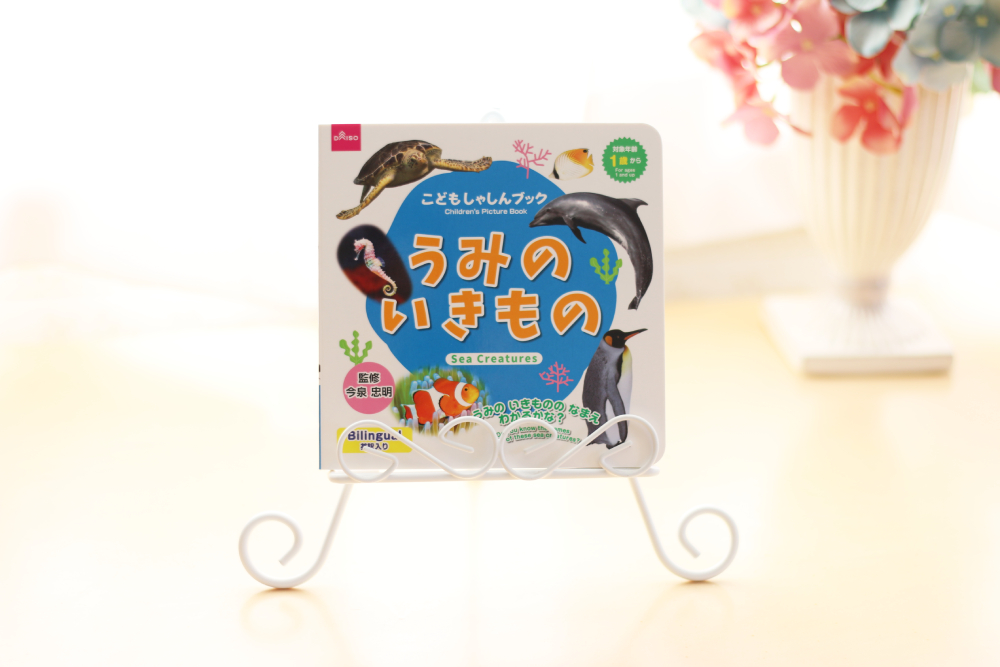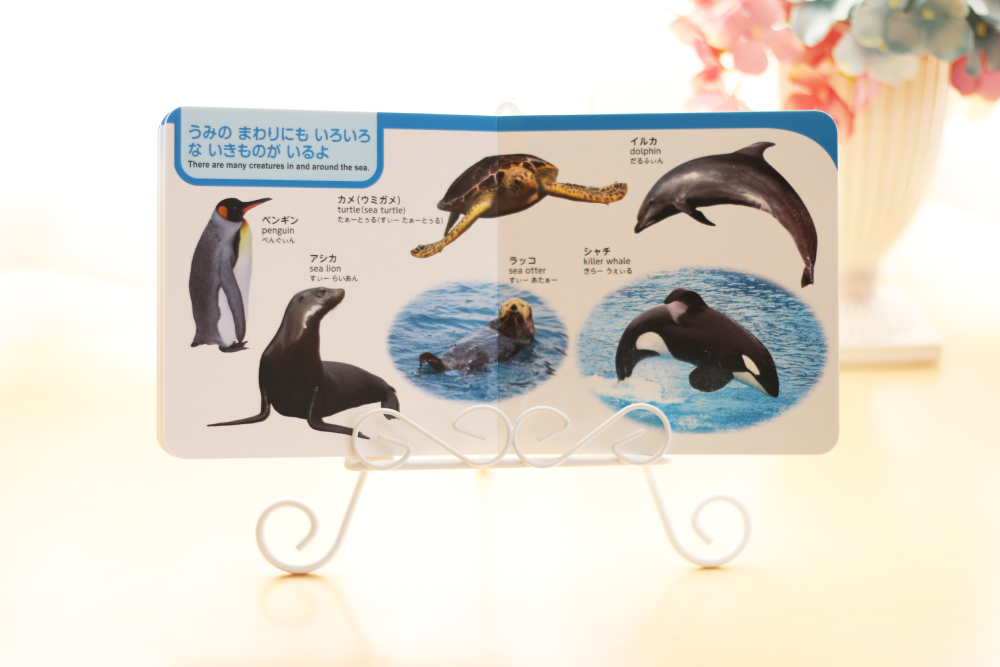 You can learn about sea creatures with this book. There are a penguin, a dolphin, a sea turtle, a starfish, a jellyfish, a seahorse, a sardine, a saury, a common clownfish, etc.
たべもの (Foods)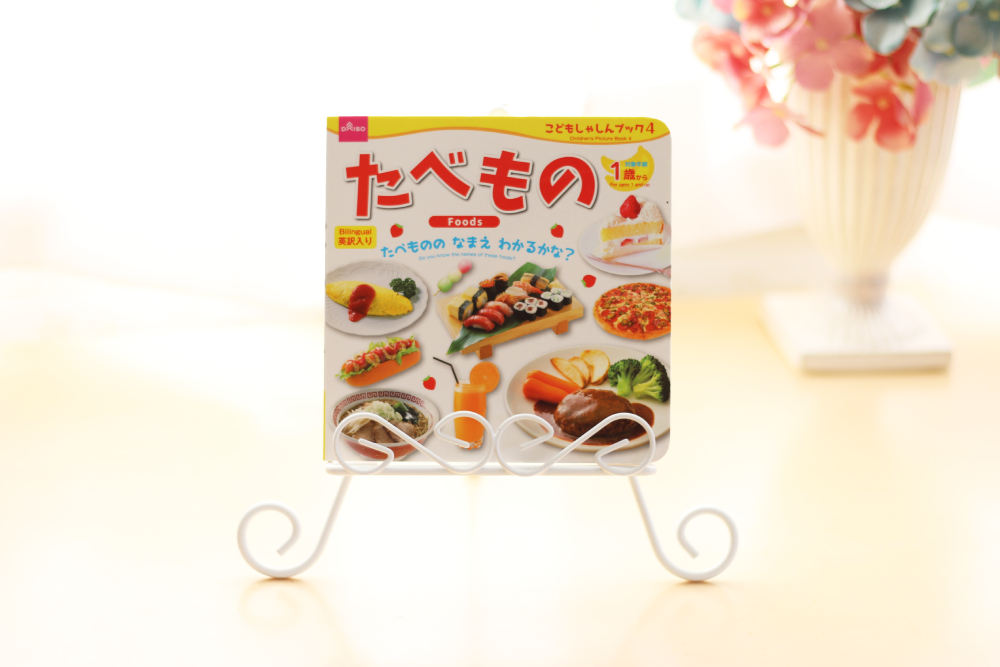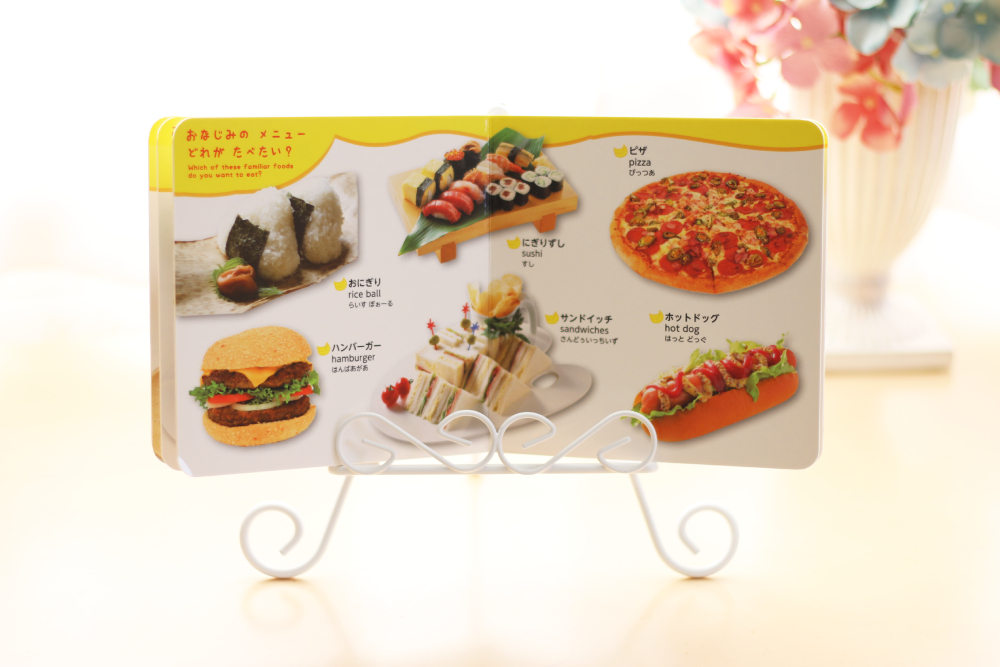 Both Japanese and Western foods are introduced in the book. There are sushi, ramen, soba, pizza, milk, cheese, yogurt, pancake, ice cream, etc.
のりもの (Vehicles)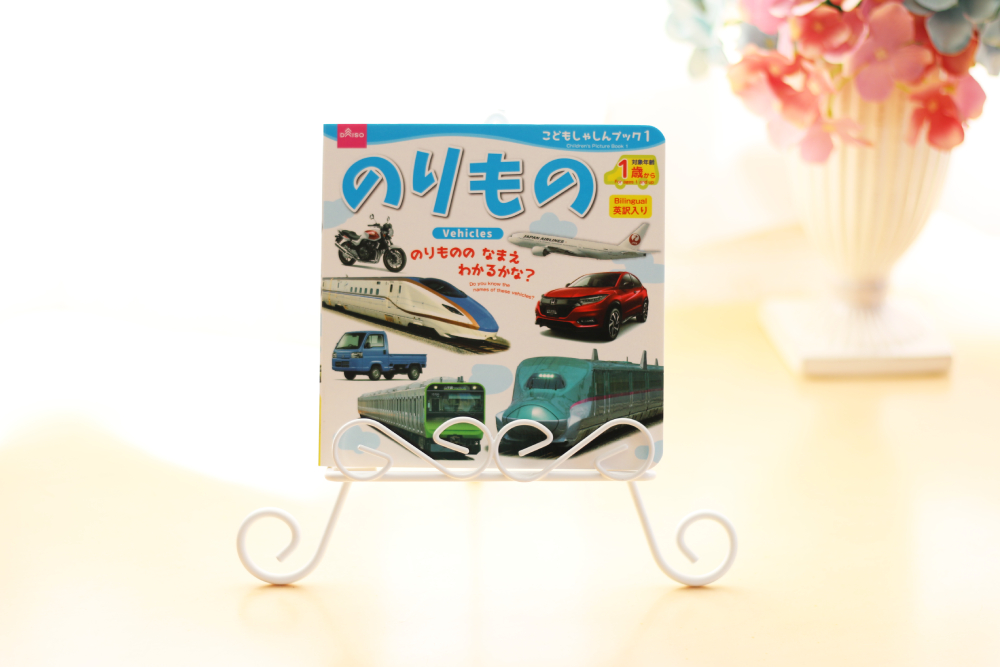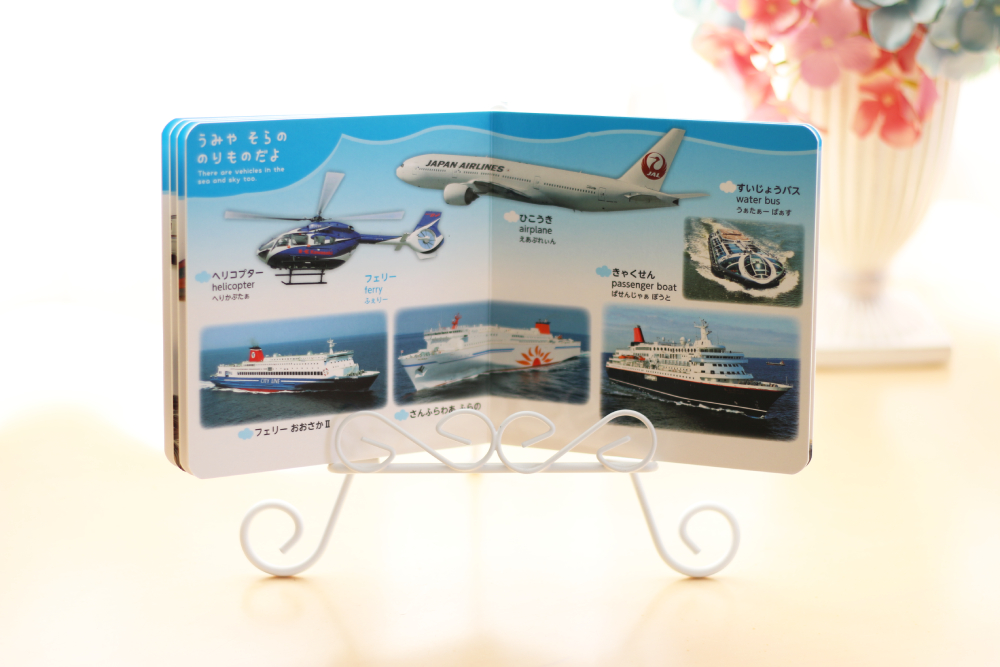 This book introduces vehicles. There are cars, a bus, a train, bullet trains, an airplane, ships, a streetcar, a motorbike, etc. Photos in this book are common vehicles in Japan.
はたらくのりもの (Service Vehicles)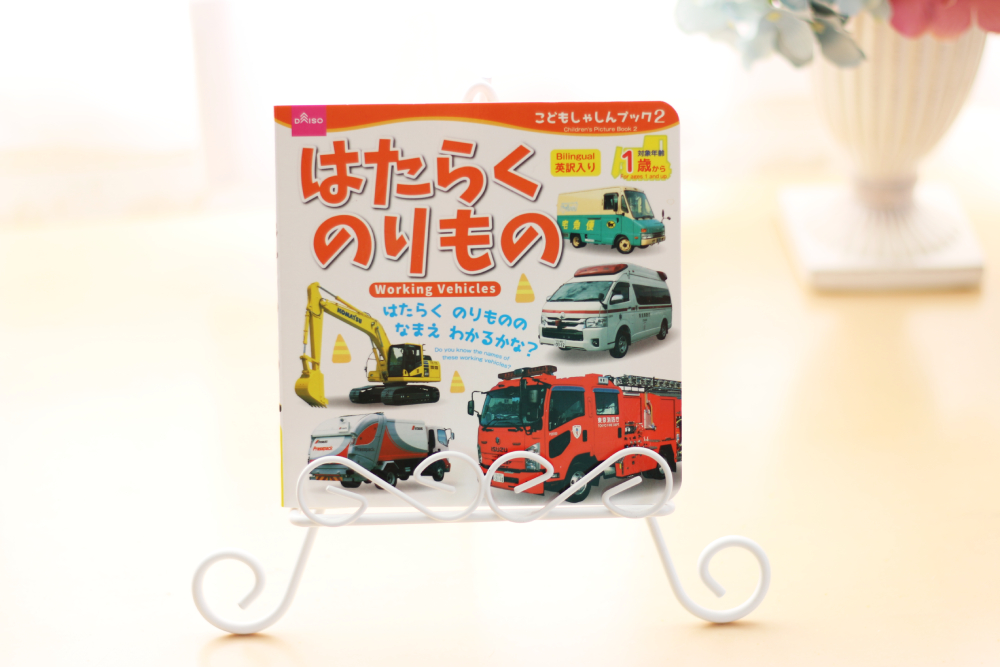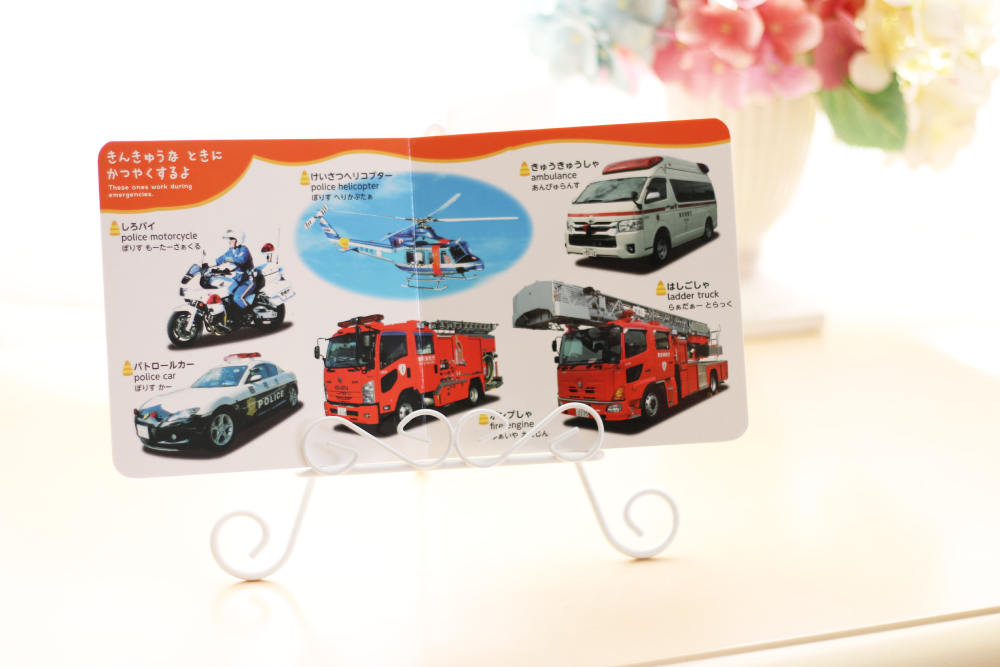 This book introduces service vehicles. There are a police car, a dump truck, a tank truck, a digger, a bulldozer, a taxi, a bus, a container ship, etc.
Books of Vehicles
Board book
Suitable for ages 3 and up
Size: 5,5 in x 3.5 in (14cm x 9cm)
10 pages
Price: 100 yen
The book is shaped like a vehicle with pretty illustrations. The book introduces vehicles and explains what the vehicle does. For example, a train takes everyone where they want to go. It is also great to learn about animals because a lot of animals ride or drive vehicles.
でんしゃのりたいな (I want to ride trains!)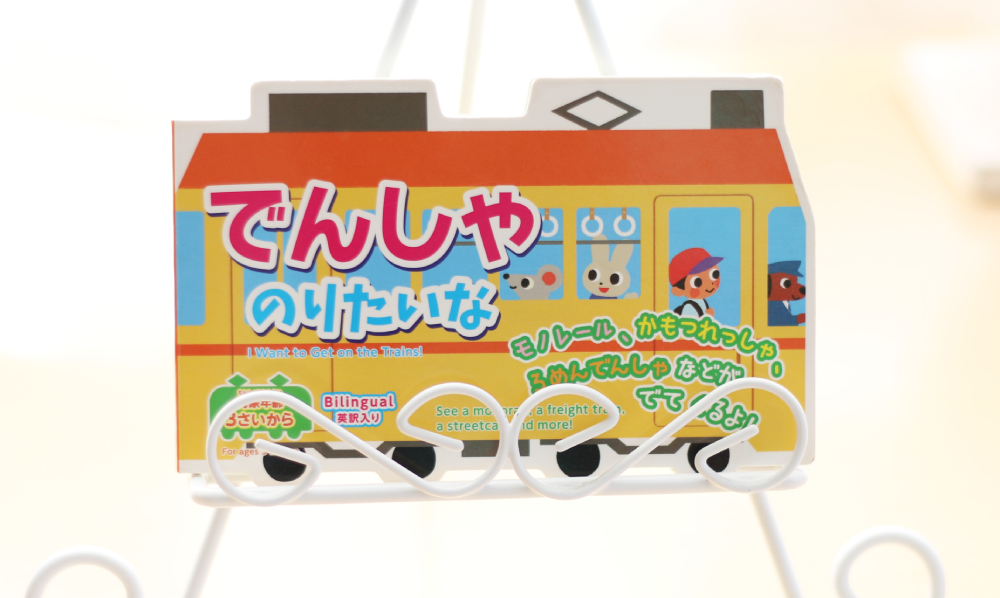 A train, a monorail, an express train, a freight train, and a streetcar appear in this book. You can build your child's imagination by asking "Where do you think the train is going?" or" Where do you think the dog is going?".
いろいろなくるま (Various Vehicles)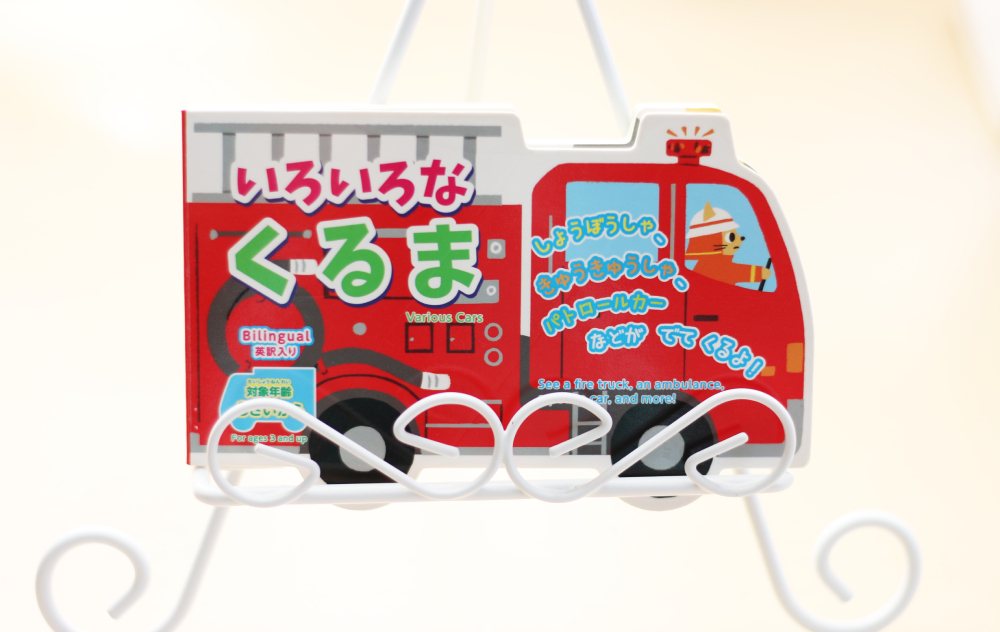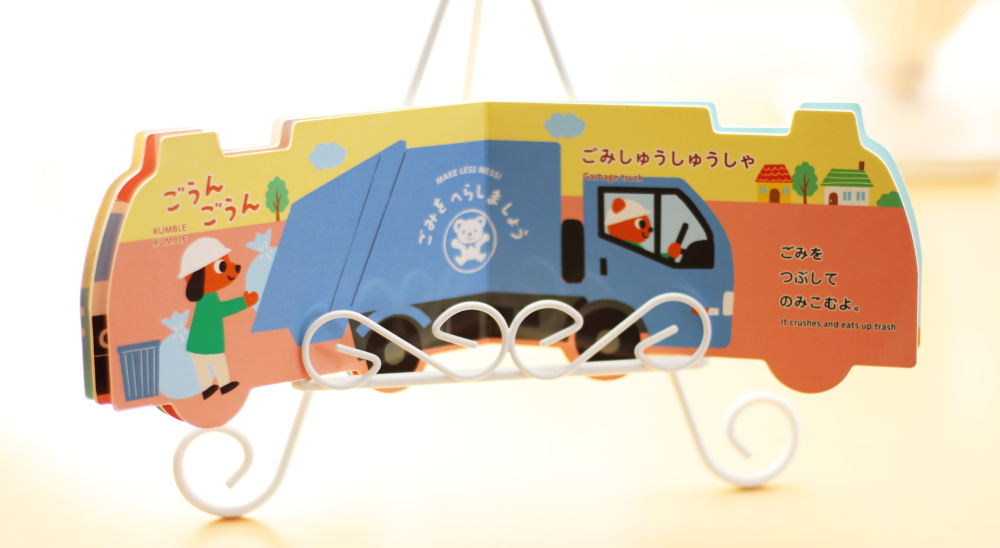 You'll see a fire truck, an ambulance, a police car, a garbage truck, and a mobile store. You can ask your child "Why do you think he got injured?" or "What kind of food does the mobile store have?".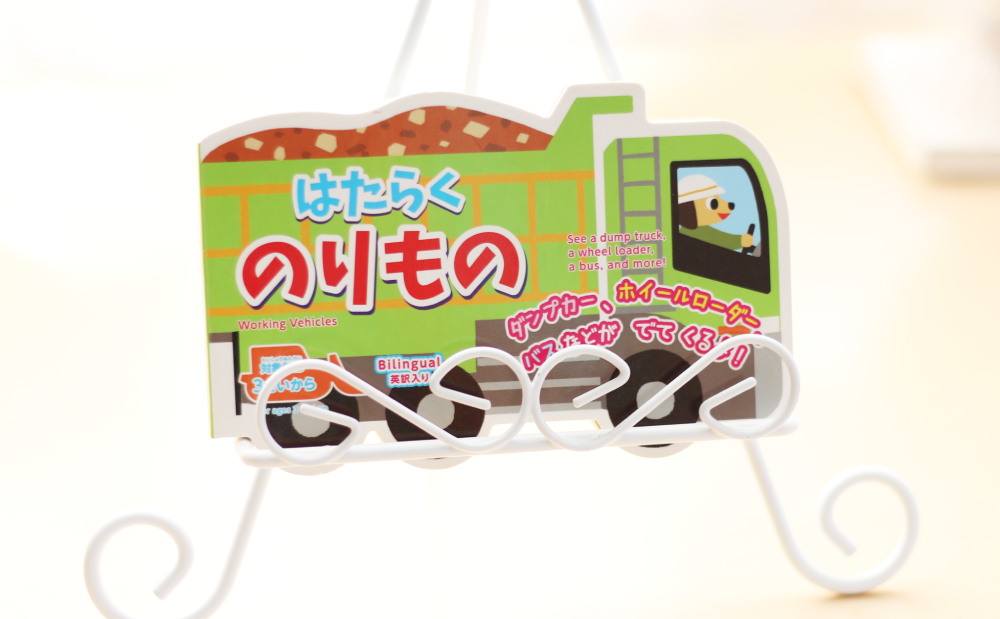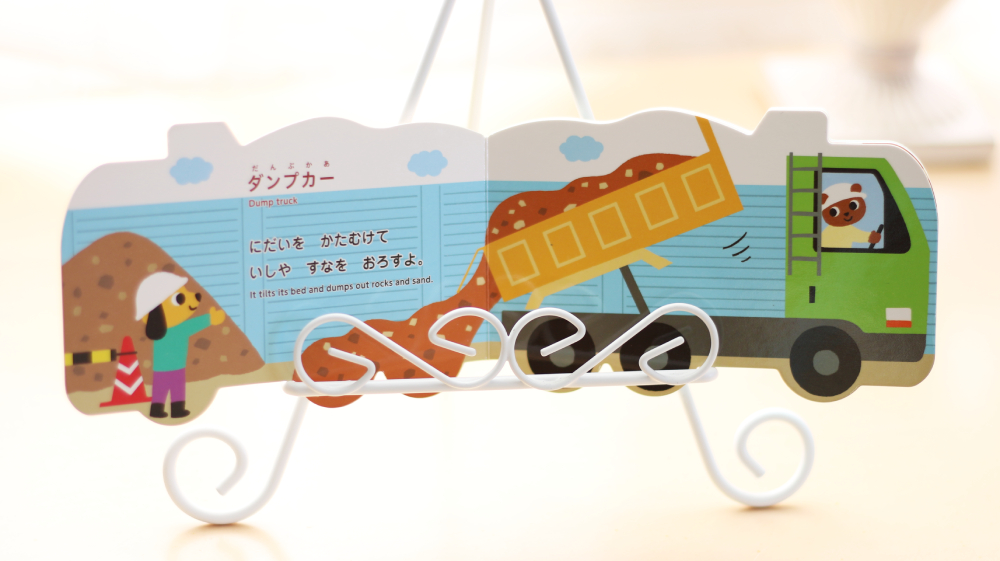 You'll learn about a dump truck, a wheel loader, a tanker truck, a bus, and a delivery van. Ask your child "Where do you think the bus is going?" or "What is inside the delivery package?".
Look and Find Book
Thin paper book
Suitable for ages 3 and up
Size: 7 in x 7 in (18cm x 18cm)
32 pages
Price: 100 yen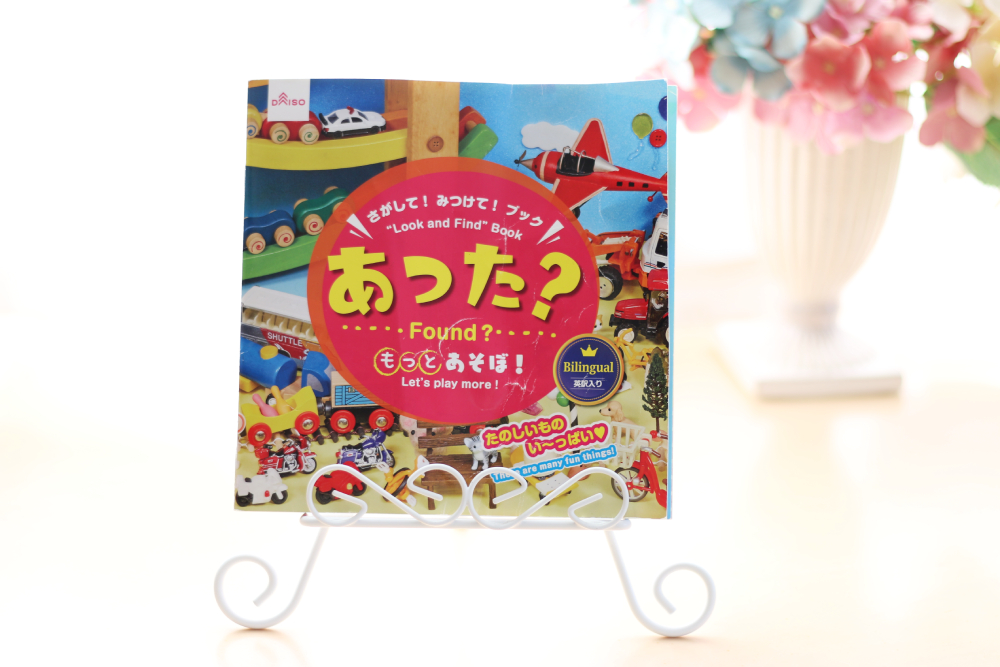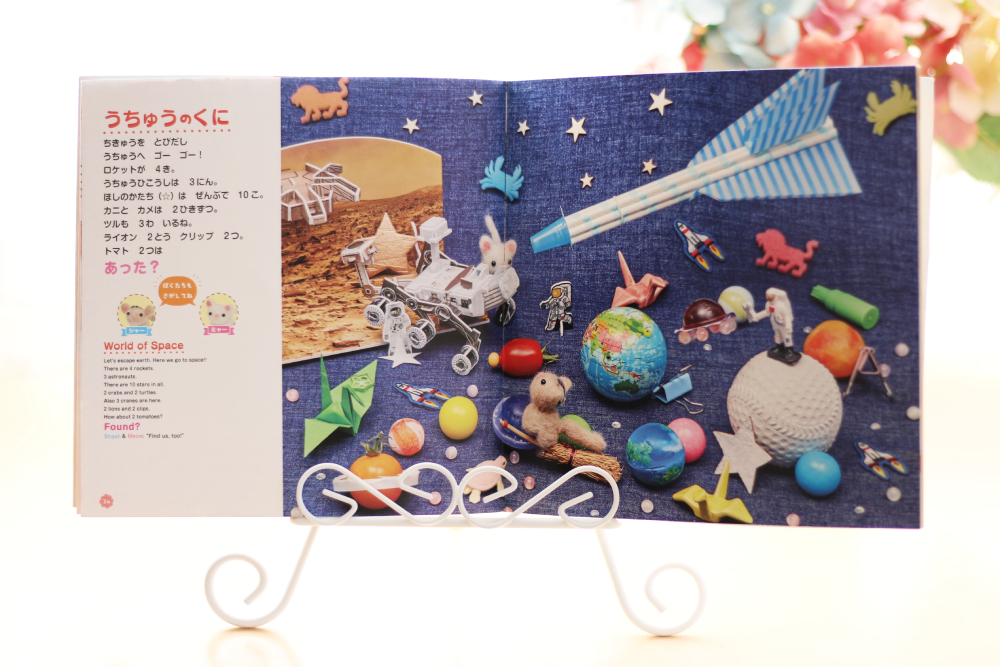 Things you need to find in the picture are written in Japanese and English on the left side of the book. Let's find 4 rockets, 3 astronauts, 10 stars, 2 crabs, 2 turtles, 3 cranes, 2 lions, 2 clips, and 2 tomatoes. It's quite difficult for adults too.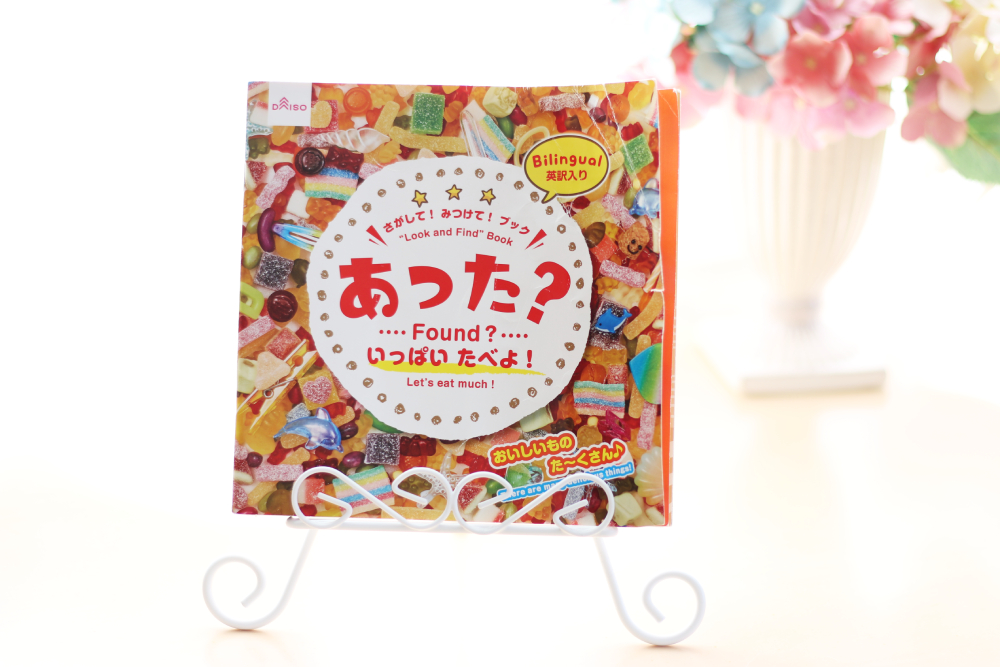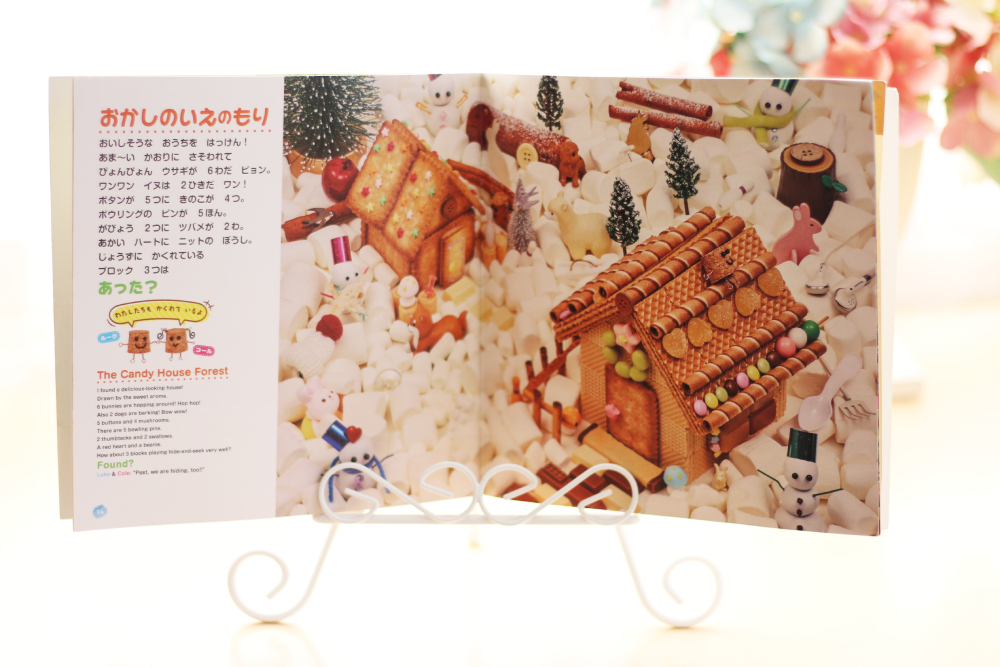 This is the food version. Try and find 6 bunnies, 2 dogs, 5 buttons, 4 mushrooms, 5 bowling pins, 2 thumbtacks, 2 swallows, a red hat and a beanie, and 3 blocks. It's great intellectual training for kids.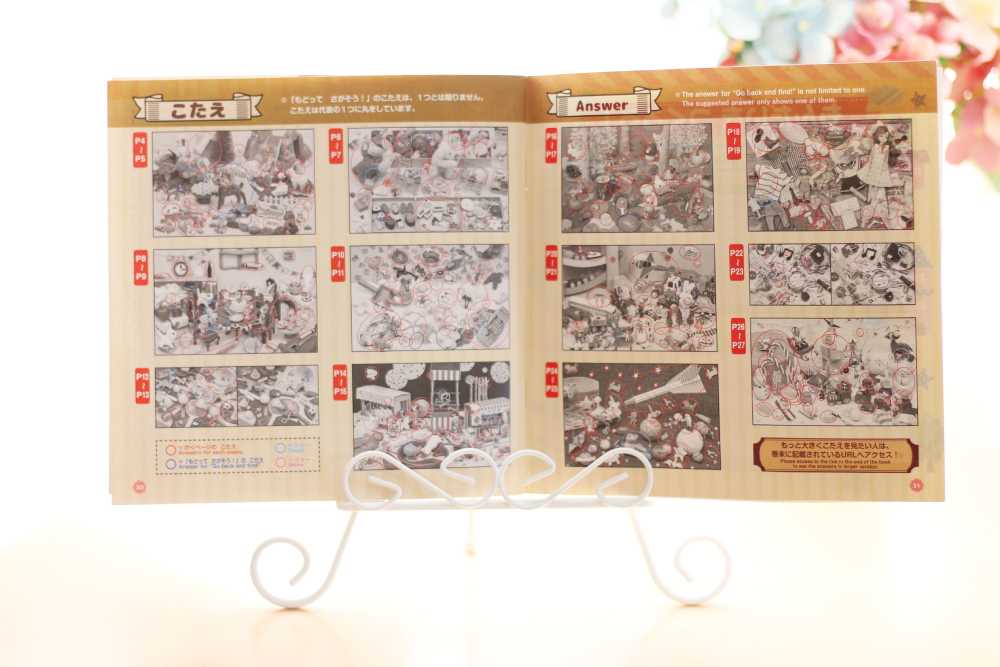 There is an answer at the end of the book.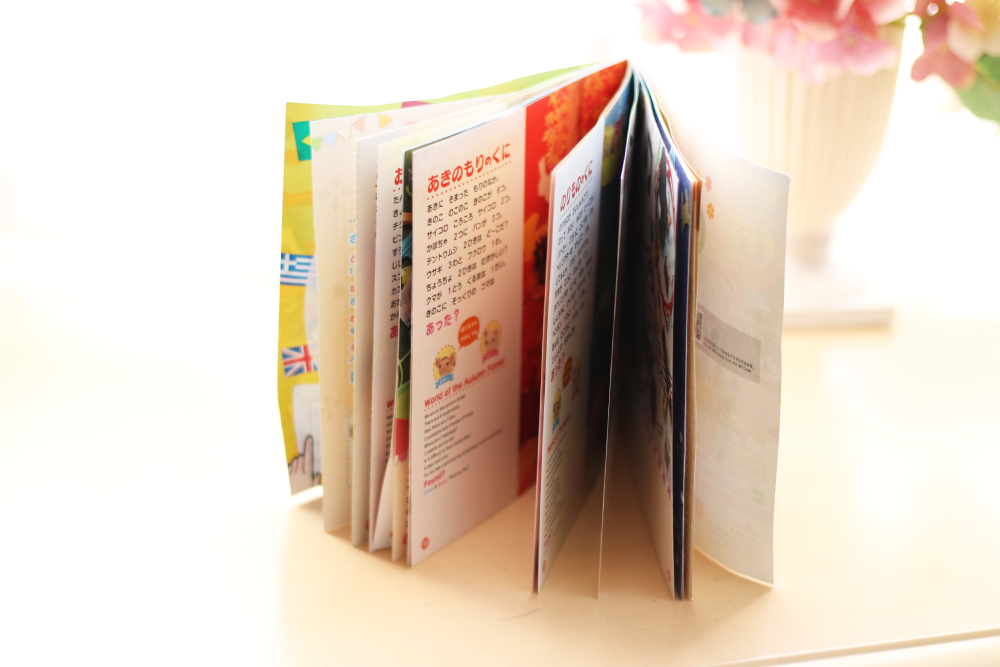 Note that it is made of thin paper, unlike the previous books. It can be easily crumpled and torn up.
Where you can find them?
You can find them at Daiso. Daiso is everywhere in Japan. Click the link below for a store search.
https://www.daiso-sangyo.co.jp/en/shop
The selection of items may differ depending on the store. If you don't find the books, try another Daiso store.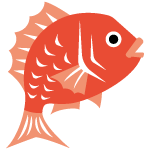 The books must be a strong supporter of your childcare. It's only 1,000 yen (US $10) even if you buy everything!